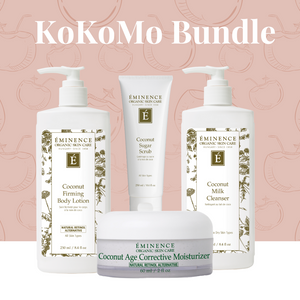 Kokomo Bundle
Regular price
$184.00
Sale price
$148.00
---
This skin care gift set promises serious bang for your buck. Take a tropical relaxation break with all of our full head to toe coconut bundle. Comes with a Free Coconut Firming Body Lotion. 
Eminence Organics Coconut Firming Body Lotion
Eminence Coconut Firming Body Lotion is an excellent daily moisturizer that will leave your skin looking tight, firm and hydrated for 24 hours. Made with organic avocado oil, organic shea butter and organic grape seed oil, this body lotion is rich and creamy and leaves the skin feeling smooth and soft. Incredibly gentle and unscented, this body lotion is perfect for all skin types including sensitive skin. Our coconut firming body lotion is a wonderful follow up to your favorite eminence facial moisturizer or can be used on its own to add moisture and nutrients to your body.
For skin that wants to regain its elasticity and vitality, our Coconut Firming Body Lotion is formulated to smooth and condition the look of skin. The emollient properties of coconut oil and shea butter soften and restore suppleness to the skin.
Eminence Organics Coconut Sugar Scrub
Coconut sugar is a new ingredient that is fast gaining popularity. It is an exceptional exfoliant, containing high levels of Vitamin C and natural antioxidants. It is also high in potassium and iron, making it a great moisturizing agent.
Skin is effectively exfoliated. Hydration is returned to the skin. Skin appears soft and silk. This invigorating formula contains raw sugar cane granules to gently exfoliate dulling, dead dermal cells, revealing soft, smooth skin and promoting its natural renewal process. Coconut Sugar Scrub is also filled with anti-aging properties to soften and smooth out your skin while increasing your skin's elasticity. A must-have for dry, winter skin, the rich organic shea butter in this sweet-smelling body polish will have you saying good-bye to rough, dry patches and hello to soft, supple skin.
Eminence Organics Coconut Milk Cleanser
Eminence Organics Coconut Milk Cleanser - Created to comfort dry, irritated or sunburned skin, this gentle cream cleanser uses rich coconut milk to nurture skin for a dewy, fresh finish. Cruelty-free and formulated without parabens, sodium lauryl sulfates, synthetic dyes, petrochemicals, animal by-products, phthalates, GMOs and triclosan. Rich in amino acids and antioxidants from coconut milk, the emollient formula is designed to melt into skin easily. The result is a soft, supple look and feel.
This mild and creamy Coconut Milk Cleanser is a true beauty secret. It gently, yet effectively, washes away dirt, excess oil and makeup. It is ideal for all skin types and never dehydrates, leaving skin with a fresh and dewy finish. Use morning and night as your primary facial cleanser.
Eminence Organics Coconut Age Corrective Moisturizer
Eminence Organics Coconut Age Corrective Moisturizer from Skin Momma is a unique, oil-free moisturizer that gives your skin a youthful glow. Coconut, shea butter and grape seed oil combine with green apple stem cell technology that offers lasting age correction, reducing the appearance of fine lines and wrinkles.
This silky moisturizer instantly tightens, lifts and firms your skin. This luxurious, lightweight formula uses only the finest ingredients to hydrate your skin without leaving it feeling greasy. Coconut oil penetrates deeply to help protect your skin's natural moisture barrier so it stays fresh and youthful looking. 100% natural, this vegan, gluten-free product is comprised of plant actives and plant extracts to ensure your skin gets the most out of each ingredient.