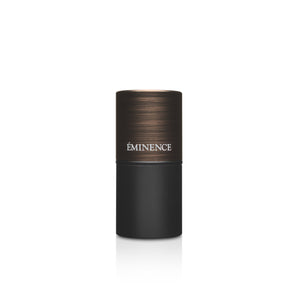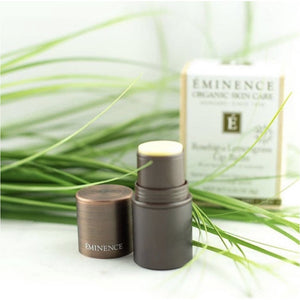 Eminence Organics Rosehip & Lemongrass Lip Balm SPF 15
Regular price
Sale price
$28.00
---
Bring irresistible charm to your day with this delightfully fragrant repair balm from Eminence Organics. Its delicious blend of fresh lemongrass, hydrating rosehip and soothing lavender extracts will penetrate deeply into your skin, locking moisture in and upping hydration by just a little bit more! You can use this product in a number of ways: apply a small dollop all over your face after cleansing, a small splash just on a dry patch or a dab onto a blemish before bed.
Rosehip oil is an essential oil extracted from seeds of Rosa rubignosa. It is known for its high levels of essential fatty acids, especially linoleic acid (omega 6) and linolenic acid (omega 3). The oil is very light and non-greasy and penetrates the skin easily to moisturize, plump up fine lines and stimulate cellular regeneration.

This natural organic facial moisturizing balm is suitable for all skin types, especially sensitive skin. Lightweight and easily absorbed, this non-greasy formula heals damaged skin with the power of pure plant oils.

Rosehip and Lemongrass Repair Balm is loaded with soothing organic ingredients to help soothe the discomfort of environmental stress, redness and dry skin. Rosehip seed oil helps to restore moisture, while organic emu oil, organic hemp seed oil and organic aloe vera gently hydrate skin. This balm is great for soothing dry, over-exposed skin during the winter months.

Retail Size: 1 oz / 30 ml
How to Use:
Apply a small amount with fingertips to cleansed skin avoiding eye area. Leave on. Excellent for use after stimulating treatments, massage or as a finishing product; for facial massage mix with a few drops of either the Facial Recovery Oil or Rosehip Triple C+E Firming Oil for an ultra-rich repairing treatment.
Key Ingredients:
Rosehip Oil: Primary constituents are EFAs, Vitamins C and E and beta carotene which improve skin's moisture, tone, texture
Sunflower Oil: Rich in Vitamins A, D and E; protects and soothes dry skin
Natural Repair Complex: Derived from rosehip and rosemary, repairs dry skin faster and reduces redness due to dryness. Protects from the drying effects of environmental stress
Edelweiss Extract: Helps skin preserve natural balance
Prickly Pear Stem Extract: A cactus rich in flavones, vitamins, antioxidants and minerals; excellent for soothing and hydrating dry skin while retaining firmness
Lemongrass: A natural astringent that minimizes pores
Results:
Repairs, soothes and reduces redness for dry skin
Skin is protected from drying environmental stressors
Application Area: Body, Face
Ideal for these Concerns: Dryness and Dehydration, Free Radical Damage, Redness, Rosacea, Sun Damage
Features: Natural Repair Complex, derived from rosehip and rosemary, encourages cell regeneration to treat skin that is damaged, sensitized and inflamed