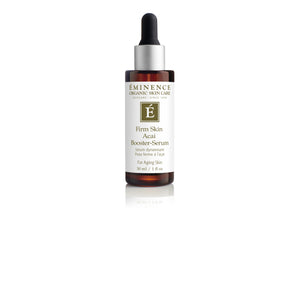 Eminence Organics Firm Skin Acai Booster-Serum
Regular price
Sale price
$64.00
---
Firm Skin Acai Booster-Serum has a unique blend of 10-active plant stem cells, fruit acids and hyaluronic acid promotes firmness and elasticity, plumps fine lines and wrinkles and improves skin texture.
Firm Skin Acai Booster-Serum is designed to give you an amazing boost of natural, organic hydration derived from the super berry Acai. Loaded with antioxidants, Acai berries are used in cosmeceutical skincare for their potent free radical scavenging activity. Antioxidants are essential for skin health as they work to prevent damage from environmental factors.
A truly luxurious, silky smooth power-serum packed with antioxidants. The serum instantly makes the skin look brighter and firmer. Your skin will feel softer, smoother, healthier, more youthful. Its special blend of Oligo-Elements Amino Acids conditions the skin with an infusion of over fifteen fruit extracts. Swiss Apple stem cells are protected by a natural barrier of fatty acids to protect its vital function of anti-ageing within the skin cell itself. Vitamin A in this serum is synthesized in the body into retinoic acid which then fortifies the skin to give it a rejuvenated look full of resiliency, bounce and youthfulness.
Retail Size: 1 oz / 30 ml
Key Ingredients:
Acai Berry: antioxidant rich, nourishing to improve the look of skin tone
Botanical Hyaluronic Acid (from marshmallow plant extract): deeply hydrating; natural substance that smoothes and plumps skin to minimize the appearance of fine lines and wrinkles
Wild Jujube: toning; skin brightener high in Vitamin C to reduce the appearance of signs of aging
Maral Root: rich in Vitamin C to improve the appearance of skin
Homeostatine® (Marine Algae, Tara Tree): antioxidant; helps to prevent dehydration; reduces the appearance of wrinkle depth
BioComplex: a booster of antioxidants, Coenzyme Q10, and Alpha Lipoic Acid to reduce the appearance of wrinkles and improve the appearance of skin
Results:
The visible signs of aging are reduced
Skin appears soft and noticeably smoother
Skin is hydrated and appears plump
Skin appears firmed and revitalized
Daily use 2-3 drops am or pm or both. Add booster-serum into weekly masque. Apply booster-serum directly on skin daily prior to serums and/or Moisturizer.
Application Area: Face
Ideal for these Concerns: Aging Skin, Free Radical Damage
Features: BioComplex: A booster of antioxidants, Coenzyme Q10, and Alpha Lipoic Acid to reduce the appearance of wrinkles and improve the appearance of skin
*Certified Organic Ingredient

**Biodynamic® ingredients from controlled Demeter production