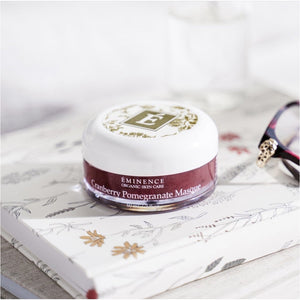 Eminence Organics Cranberry Pomegranate Masque
Regular price
Sale price
$54.00
---
**This item has been discontinued. Limited stock available.
Suggested Replacements: Citrus & Kale Potent C & E Masque
                                             Stone Crop Masque
                                             Pumpkin Latte Hydration Masque**
This luxurious, nutrient-rich masque delivers a natural glow to your skin that will leave you looking refreshed and renewed. Eminence Organics Cranberry Pomegranate Masque is the perfect addition to any skin regimen. Our Cranberry Pomegranate works hard to smooth, hydrate and even skin tone, delivering you a glowing complexion.


Saturate your skin with the powerful nutrients and revitalizing fruit extracts found in Eminence Organics Cranberry Pomegranate Masque. This antioxidant-infused face mask is formulated with nourishing, organically grown whole fruits, exfoliating seeds and plentiful amounts of vitamin C and polyphenols for a lavish, replenishing skin care experience.
Natural, nutrient dense, active emollients and extracts from fruits and vegetables work together to improve circulation, stimulate cell regeneration and support the body's natural defenses against toxins.
A fresh cranberry pomegranate cocktail for the skin, this extraordinary mask is full of active, therapeutic properties that protect and hydrate. Rich in antioxidants, flax seed, sunflower and gooseberry protect while toning for a radiant, youthful look.
Eminence Organics is a certified organic and natural skin care brand with over 20 years of experience in the natural skin care industry. At Eminence, we believe in creating each product with 100% natural ingredients, respecting the natural rhythms of life and the seasons.
Retail Size: 2 oz / 60 ml
How to Use:
Mix a small amount of product in your hand with a few drops of water and apply evenly over the entire face. The neck and the décolleté can be treated, if desired. Allow to dry for 5-10 minutes. Rinse thoroughly with lukewarm water and use a face cloth if desired. 
Key Ingredients:
Cranberry: high in vitamins and antioxidants to reduce the appearance of wrinkles
Pomegranate: high in polyphenol and antioxidants to protect and balance skin's appearance
Papaya: contains vitamins and fruit enzymes to improve the appearance of skin
Sunflower Oil: rich in vitamins to reduce the visible signs of aging
Sesame Oil: improves skin texture and appearance
BioComplex: a booster of antioxidants, Coenzyme Q10, and Alpha Lipoic Acid to reduce the appearance of wrinkles and improve the appearance of skin
Eminence Organics Believes in: Organic, Natural, Biodynamic®, Sustainable, Cruelty Free
Eminence Organics says NO to: Parabens, Phthalates, Sodium Lauryl Sulfate, Propylene Glycol, Animal Testing 
Our natural, organic and Biodynamic® ingredients may have slight variations from harvest to harvest.
Results:
Skin appears toned and revitalized
Skin texture appears smooth and plumped
Complexion appears glowing with health and vitality
Skin feels nourished and protected
Eminence Organics is constantly innovating their product formulations to deliver the best results. 
Application Area: Face
Ideal for: Aging Skin
Features: Adaptogenic Skin Care
Ingredients: Organic Phytonutrient Blend™ [Aloe Juice*, Blackberry Juice*, Raspberry Juice*, Hawthorn Berry Juice*, Seabuckthorn Berry Juice*, Tomato Juice*, Blueberry Juice*, Mulberry Leaf Extract*, Vegetable Glycerin*, Maltodextrin (from Rice)* and Silica], Sunflower Seed Oil, Guar Gum, Cranberry Seed Oil, Cranberry Seed Pulp, Pomegranate Seed Oil, Flaxseed Seed Oil, Sesame Seed Oil, Papaya Fruit Extract*, Sorbitol, Glyceryl Caprylate, Glyceryl Undecylenate, Aromatic Extract Blend, Biocomplex2™ [Acai*, Lemon*, Barbados Cherry*, Indian Gooseberry*, Baobab*, Camu Camu*, Carrot*, Coconut Water*, Goji Berry*, Tapioca Starch (from Cassava Root)*, Alpha Lipoic Acid and Coenzyme Q10], Vegetable Glycerin*
Preferences: Certified Cruelty-Free, Certified Organic, Gluten-Free, Natural, Paraben-Free, Phthalate-Free, Vegan
*A certified organic ingredient