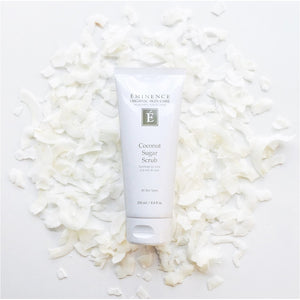 Eminence Organics Coconut Sugar Scrub
Regular price
Sale price
$48.00
---
This invigorating organic scrub gently polishes away rough patches to reveal softer, smoother skin. The invigorating blend of botanical ingredients includes Raw Sugar Cane granules to gently exfoliate, Virgin Coconut Oil for moisturizing benefits, and BioComplex to restore essential nutrients. Treat your skin to a pampering spa experience like no other.
Our Biocomplex Complex is a powerful combination of nutrients that support your skin's natural collagen renewal process for healthier skin. The fresh, rejuvenating scent of coconut and cantaloupe capture your imagination and transport you to an exotic beach paradise.

In the midst of a busy life, it is easy to forget about your skin care routine. However, this becomes a problem when you neglect the effects of dead skin cells and clogged pores, which impact the overall health and appearance of your skin. An easy way to soften and remove dead skin cells while achieving a healthy glow is through a sugar scrub. Take a trip to the Spa without leaving the comfort of your home with the delightful sugar scrub. 

Retail Size: 8.4 oz / 250 ml
Winner: of Best Sugar Scrub, Aestheticians' Choice Awards 2016, Dermascope 2016
How to Use:
Apply a layer of sugar scrub to damp skin, preferably during the last part of a shower or bath. Massage in circular motions on legs, hands, arms, elbows and any part of the body that needs smoothing. Rinse well with warm water and pat dry. If needed, follow with a body lotion according to skin type.
Key Ingredients:
Virgin Coconut Oil: hydrates skin and prevents damage caused by drying
Raw Sugar Cane Granules: contain natural Alpha Hydroxy Acid for exfoliation
Comfrey: reinforces skin's appearance with moisture
Cucumber: revitalizing and toning
BioComplex: a booster of antioxidants, Coenzyme Q10, and Alpha Lipoic Acid to reduce the appearance of wrinkles and improve the appearance of skin
Results:
Skin is effectively exfoliated
Hydration is returned to the skin
Skin appears soft and silky
Application Area: Body
Ideal for these Concerns: Wrinkles, Firmer Skin. Dryness and Dehydration, Body Contouring
Ingredients: Sugar Cane Granules*, Organic Phytonutrient Blend™ [Aloe Juice*, Kakadu Plum Juice*, Sour Cherry Juice*, Camu Camu Juice*, Lemon Juice*, Apple Juice*, Calendula Officinalis Flower Extract*, Carrot Extract*, Red Clover Flower Extract*, Coconut Milk*, Grape Seed Extract*, Wild Yam Root Extract*, Rosemary Leaf Extract*, Guar Gum*, Corn Silk Extract*, Soybean Germ Extract*, Citric Acid, Maltodextrin (from Tapioca)* and Citrus Pectin], Sunflower Seed Oil, Coconut Oil, Coconut Pulp*, Aromatic Extract Blend, Comfrey Root Extract*, Green Tea Leaf Extract*, Cucumber Extract, St. John's Wort Flower Extract*, Sage Leaf Extract*, Biocomplex2™ [Acai*, Lemon*, Barbados Cherry*, Indian Gooseberry*, Baobab*, Camu Camu*, Carrot*, Coconut Water*, Goji Berry*, Tapioca Starch (from Cassava Root)*, Alpha Lipoic Acid and Coenzyme Q10], Vegetable Glycerin*.
*Certified Organic Ingredient
**Biodynamic® ingredients from controlled Demeter production