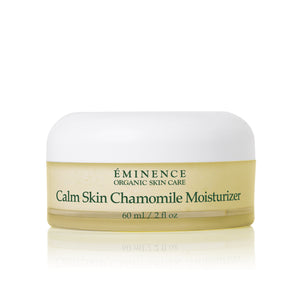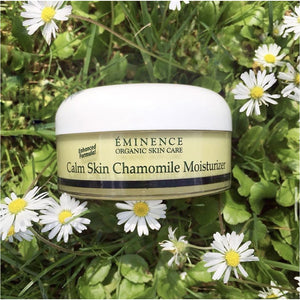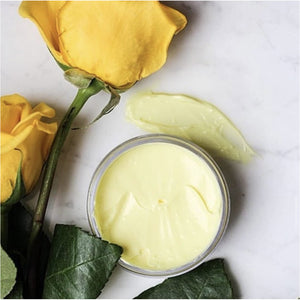 Eminence Organics Calm Skin Chamomile Moisturizer
Regular price
Sale price
$65.00
---
If you suffer from sensitive, itchy or red skin, reaching for a product that soothes and calms irritation will give you an instant boost. Eminence Organics Calm Skin Chamomile Moisturizer does just that with the addition of chamomile extract and arnica extract. Both herbs are indigenous to Germany and used in traditional medicine. They possess anti-inflammatory properties that help calm irritated skin. With them, you'll find hydration and comfort in every rich, creamy drop of this moisturizer.
Replace tired, aching skin with a luxurious moisturizer that will hydrate, nourish and protect your skin. Eminence Organics' Calm Skin Chamomile Moisturizer offers a unique blend of natural ingredients that will quickly and effectively relieve inflammation and reduce redness to promote a clearer, calmer complexion. The fast-absorbing moisturizer helps replenish moisture levels as it conditions and softens skin with shea butter for a smooth texture and long-lasting, comfortable feel. Its unique Biocomplex formula features coenzyme Q10, vitamins, antioxidants and alpha lipoic acid to restore a youthful, radiant appearance.
The best skincare products are an essential component to our wellness routines. They can help to soothe sunburns, relieve inflammation and reduce redness. With so many choices in the marketplace, it can be hard to determine which products are right for you. 
Retail Size: 2 fl oz
How to Use:
Apply a layer of moisturizer over the entire face and neck area and leave on. For a lighter application, emulsify a small amount of moisturizer in your hand with a few drops of water. For extra hydration, apply a thicker layer in dry areas. Re-apply as necessary to maintain optimal hydration.
Key Ingredients:
Chamomile: revitalizes, calms, and balances the appearance of skin
Calendula Oil: antioxidant, essential oil
Shea Butter: moisturizer high in triglycerides and fatty acids; excellent emollient for skin; replenishes the skin moisture barrier
Sunflower Oil: protective; rich in vitamins A, D and E
Grape Leaf Extract: antioxidant; rich in polyphenols
Aloe Vera Juice: soothing and refreshing
Rosemary:  antioxidant; rejuvenating and soothing
BioComplex: a booster of antioxidants, Coenzyme Q10, and Alpha Lipoic Acid to reduce the appearance of wrinkles and improve the appearance of skin
Results:
The appearance of redness is reduced
Skin appears calmed
Complexion appears toned and enriched
Skin is left soft and hydrated
Results are enhanced when using the entire Calm Skin VitaSkin™ Solution.
Application Area: Face
Ideal for: Redness, Rosacea
Ingredients: Organic Phytonutrient Blend™ [Aloe Juice*, Hawthorn Berry Juice*, Seabuckthorn Berry Juice*, Calendula Officinalis Flower Extract*, Chamomile Flower Extract*, Grape Seed Extract*, Comfrey Leaf Extract*, Chickweed Extract*, Rosehip Seed Extract*, Calendula Officinalis Flower & Arnica Montana Flower Oil*, Sunflower Seed Oil*, Pumpkin Seed Oil*, Sesame Oil*, Safflower Oil*, Jojoba Seed Oil*, Evening Primrose Oil* and Vegetable Heptyl Glucoside], Glyceryl Stearate Citrate, Cetearyl Alcohol, Glyceryl Caprylate, Vegetable Glycerin*, Corn Germ Oil*, Caprylic/Capric Triglyceride, Shea Butter*, Coco Caprylate/Caprate, Calendula Officinalis Flower Oil, Chamomille Extract*, Provitamin B5, Vegetable Glycerin, Ivy Extract, Witch Hazel Extract, Arnica Montana Flower Extract, St. John's Wort Extract, Horse Chestnut Seed Extract, Grape Leaf Extract, Tara Tree Gum, Vitamin E, Benzyl Alcohol, Dehydroacetic Acid, Xanthan Gum, Salicylic Acid, Sodium Benzoate, Potassium Sorbate, Vitamin C Ester, Soy Lecithin, Biocomplex2™ [Acai*, Lemon*, Barbados Cherry*, Indian Gooseberry*, Baobab*, Camu Camu*, Carrot*, Coconut Water*, Goji Berry*, Tapioca Starch (from Cassava Root)*, Alpha Lipoic Acid and Coenzyme Q10].
*A certified organic ingredient
**A biodynamic® ingredients from controlled Demeter production