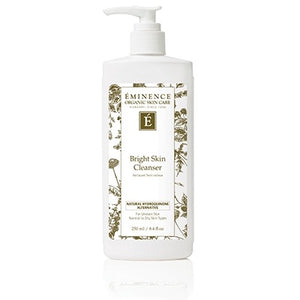 Eminence Organics Bright Skin Cleanser
Regular price
Sale price
$48.00
---
Eminence Organic Skin Care Bright Skin Cleanser is an extraordinary cleanser that removes impurities, hydrates the skin and diminishes discoloration for a more even complexion.
Enriched with natural ingredients, the Bright Skin Cleanser gently exfoliates dead skin cells to reveal bright, glowing skin. One of the best-selling cleansers in our portfolio, this skin care product features Bearberry and Gigawhite, powerful natural brighteners that fade dark spots. It also contains Licorice Root, an anti-inflammatory that reduces redness and irritation caused by blemishes.

This unique formula with emollients, antioxidants and natural astringents is ideal for all skin types, even sensitive ones. It cleanses the face, neck and décolleté without drying or irritating the skin. Natural botanicals, including Sweet Orange Peel Oil, help to increase circulation and natural astringents tighten the pores.

Our Bright Skin Cleanser is not one of those facials that cause your skin to react by flushing red, it's actually quite the opposite. The organic ingredients like licorice root, Witch Hazel and seaweed help balance the skin's oils and create a more even complexion. It removes impurities, hydrates the skin and diminishes discoloration for a more even complexion.

Retail Size: 8.4 oz / 250 ml
How to Use:
Use 1-2 pumps daily morning or night. Use in the am and pm. Dampen skin and massage Eminence Bright Skin Cleanser onto your face. Rinse off completely.
Key Ingredients:
Bearberry Extract: antioxidant; lightens the appearance of dark spots
GigaWhite™: antioxidant; a powerful blend to restore the appearance of luminosity to the skin
Licorice Root: antioxidant; soothing
Natural Hydroquinone Alternative: a natural brightening agent made with African potato and tara tree for the appearance of a smooth, radiant complexion
BioComplex: a booster of antioxidants, Coenzyme Q10, and Alpha Lipoic Acid to reduce the appearance of wrinkles.
Application Area: Face
Ideal for these Concerns: Aging Skin, Free Radical Damage, Hyperpigmentation, Sun Damage
​​Ingredients: Organic Phytonutrient Blend™ [Aloe Juice*, Licorice Root Extract*, Lemon Peel Extract*, Lemongrass Extract*, Willow Bark Extract*, Bearberry Leaf Extract*, Peppermint Leaf Extract*, Rosemary Leaf Extract*, Sage Extract* and Vegetable Glycerin*], Stone Crop*, Corn Germ Oil*, Vegetable Glycerin*, Sunflower Seed Oil*, Glyceryl Stearate, Cetearyl Alcohol, Sodium Cetearyl Sulfate, Vegetable Glycerin, Tara Tree Gum, Stearic Acid, Mallow Extract, Peppermint Leaf Extract, Primula Veris Extract, Alchemilla Vulgaris Extract, Veronica Officinalis Extract, Melissa Officinalis Leaf Extract, Achillea Millefolium Extract, Calendula Officinalis Flower Oil, Benzyl Alcohol, Dehydroacetic Acid, Sodium Salicylate, Chlorophyll, Lactic Acid, Corn-Derived Methyl Glucose Sesquistearate, Xanthan Gum, African Potato Extract, Lemon Oil*, Disodium EDTA, Vitamin C Ester, Vitamin E, Soy Lecithin, Biocomplex2™ [Acai*, Lemon*, Barbados Cherry*, Indian Gooseberry*, Baobab*, Camu Camu*, Carrot*, Coconut Water*, Goji Berry*, Tapioca Starch (from Cassava Root)*, Alpha Lipoic Acid and Coenzyme Q10].