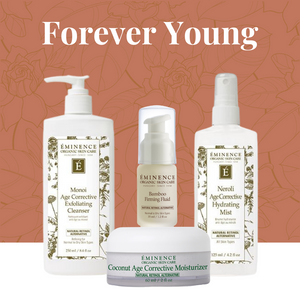 Forever Young
Regular price
$204.00
Sale price
$166.00
---
Forever Young Bundle - Age Corrective Starter Set
Reverses time for visibly smoother, brighter skin.
This age-correcting anti-aging age-corrective starter set is a 4-step daily regimen to fortify against environmental aggressors while reversing the signs of intrinsic aging. Stimulate collagen production while plumping and lifting, deeply cleanse pores and remove impurities while gently exfoliating and fortify skin against free radicals with a potent blend of organic acids and antioxidant rich botanicals.
Specially formulated with potent plant stem cells from bamboo, green apple and white willow bark. These potent compounds fortify skin on a cellular level to boost collagen production while softening the appearance of lines and wrinkles. In addition to organic retinol, vitamins B3, C and E fortify cell renewal and fortify skin against free radical attack. Organic aloe leaf juice hydrates while refining the texture of the skin for a youthful glow.
Eminence Organics Monoi Age Corrective Exfoliating Cleanser
Monoi Age Corrective Exfoliating Cleanser helps to gently remove impurities, surface debris and buildup that can interfere with the skin's ability to look and feel it's best. The creamy, luxurious lather gently exfoliates away dead skin cells to reveal smoother, younger-looking skin. Rich in antioxidants, exotic Monoi oil is packed with amino acids, proteins and lipids to promote radiant softness and smoothness. Rich in fatty acids, vitamins A, B12, C and E, this certified organic exfoliating cleanser helps promote healthy-looking skin while supporting the skin's natural regenerative process.
The botanical extracts in Monoi Age Corrective Exfoliating Cleanser promote cellular renewal and rejuvenation. Emu oil, a natural source of omega fatty acids, has been shown to soften and smooth the appearance of skin. Olive seed powder gently polishes away roughness and wrinkles for a fresher, more even complexion.
Eminence Organics Bamboo Firming Fluid
Bamboo firming fluid is a topically applied anti-aging serum, to provide a tightening and firming effect for the skin. This unique elixir is formulated with bamboo extract and a Natural Retinol Alternative that combats signs of aging. Swiss Apple Stem Cells help to aid the natural strengthening process of the skin. Coconut oil deeply hydrates, while antioxidant rich olive squalane dissolves impurities, leaving the skin soft and supple.
Eminence Organics Bamboo Firming Fluid is a lightweight, water-based emulsion that firms skin, reduces the appearance of wrinkles and promotes a smooth, even skin tone.
Eminence Organics Neroli Age Corrective Hydrating Mist
Eminence Organics' new neroli Age Corrective Hydrating Mist is an exclusive, natural retinol alternative that helps to visibly lift and tighten the appearance of skin. This hydration mist contains a unique Natural Retinol Alternative Complex, which delivers fatty acids that mimic the skin's natural support system to ensure that cells regenerate correctly.
Skin types, from normal to mature, will benefit from the Skin-Calming Complex, which helps to neutralize damaging environmental aggressors by supporting the skin's natural barrier. A marvelous feat in itself, the Skin-Calming Complex also inhibits elastase enzymes that break down collagen and elastin fibers in aging skin.
The Skin-Restoring Complex features a unique branched-chain amino acid (BCAA) complex derived from a cross between aegle marmelos and aegle sepiaria. The BCAA in the formula helps to prevent the degradation in molecular structure by supporting the skin's natural barrier. This complex also supports skin function by improving skin microcirculation and increases skin hydration levels from within.
Eminence Organics Coconut Age Corrective Moisturizer
With each application of our Coconut Age Corrective Moisturizer, you'll feel your skin instantly tighten and lift. Coconut, shea butter and grape seed oil combine with green apple stem cell technology that offers lasting age correction. This lift-and-tighten moisturizer helps diminish the appearance of fine lines and wrinkles. How? Coconut oil hydrates and strengthens skin while helping to naturally restore collagen. Shea butter replenishes your skin's elasticity while grape seed oil contains a high concentration of pro-vitamin A, which can help reduce the appearance of fine lines and wrinkles. Together these ingredients work to deeply moisturize skin while promoting a firmer, more youthful appearance.
If your skin is feeling tired, lacking firmness or you just want to seem years younger, look no further than our Coconut Age Corrective Moisturizer. Made with organic and natural ingredients, our moisturizer tightens and lifts your facial features to enhance your appearance and leave glowing results.
---